TJC 2016 Winter Newsletter
We would like to share with you our successes from 2016. We covered a lot of ground – from organising four UN advocacy trainings in Geneva, Oxford, and Brussels, to coordinating three research trips to India (resulting in our brand new refugee report). I hope you enjoy hearing what we've been busy making happen this year. And, if you're moved to help support this work, we would be very thankful. You can donate here – http://www.tibetjustice.org/?page_id=100
New in-depth report on legal status of Tibetans in India
When TJC's Prof. Eileen Kaufman discovered evidence of five court orders of deportation
of Tibetans from India to China in 2014, TJC decided this was too important to ignore, and as no other NGO was aware or working on this, we devised an urgent research project to comprehensively identify the vulnerabilities facing Tibetan refugees in India. On a tight budget, we managed to visit 37 Tibetan settlements in 10 of the 12 Indian states that host them– from Bylakuppe in south India, to Arunachal Pradesh in the northeast. Our research teams travelled tirelessly over rough terrain to make sure that we obtained the data we needed to provide the most accurate picture of life as experienced by Tibetans in India.
We have now produced a detaile
d report that highlights the vulnerabilities of being Tibetan in India. This will be used as a vital tool by lawyers everywhere to better protect Tibetan refugees. Please do help us spread word of this useful resource by sharing it with Tibetan friends and asylum/immigration lawyers that you know.
You can read and download the report here – http://www.tibetjustice.org/wp-content/uploads/2016/09/TJCIndiaReport2016.pdf
Unrepresented Diplomats training project
Working with the University of Oxford and the Unrepresented Nations and People's Organisation (UNPO), TJC devised and ran a UN Advocacy program in Brussels, Geneva and Oxford. We focused on activists who face authoritarian states when engaging United Nations human rights mechanisms.
I am happy to say that we have now trained 53 people from 27 unrepresented nations and peoples aro
und the world, including of course Tibet, on how to speak up and be heard at the UN.
It has been so inspiring to hear about the struggles and successes of people from as far apart as the Chittagong Hill Tracts to Mauritania – all united by the experience of bei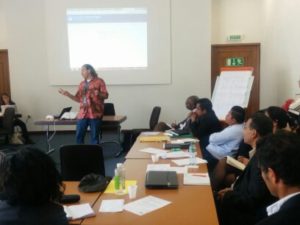 ng oppressed and the desire to work hard for freedom. The bonds and friendships made in these workshops are just as important as the skills people also took away with them.
We are now devising training materials related to the project, which will enable groups to deliver their own UN advocacy trainings and further develop their own skills. These will be available by Spring 2017.
www.unrepresenteddiplomats.org
Asylum affidavits
Throughout 2016, TJC's experts fielded multiple questions from lawyers and asylum applicants, prepared expert affidavits, and gave (written and/or oral) testimony in asylum hearings in the US, UK and Belgium on the situation for Tibetans in Tibet, Nepal and India. We are privileged to have asylum attorney Tenzin Wangyal Esq. on our board, as well as asylum experts such as Prof. Eileen Kaufman and Prof. Rob Sloane and we make sure we use their expertise often and well!
You can get in touch with us about asylum issues on tjc@tibetjustice.org
Tibet Advocacy work at the United Nations getting stronger
TJC coordinates a coalition of Tibet groups raising issues about Tibet strategically at the United Nations. This past year we focused on increasing our team's capacity and strengthening our relationships with UN bodies so we can push for significant concerted action on Tibet issues.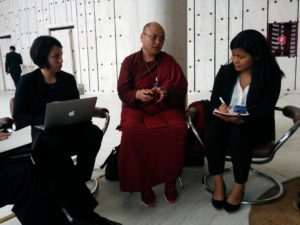 We have also increased our numbers. We coordinated three Tibet Advocacy Coalition team trips to Geneva, in March, June and September 2016, with 24 people in total on the ground – most of them young Tibetan leaders from across Europe, India and North America. We also organized a specialist training for the coalition members in September with UN experts.
We are also very proud of being able to use our UN experience and contacts to provide Tibetan ex-political prisoners a platform to raise their voices about Tibet at the UN. This year we were humbled and inspired to work with Golog Jigme Gyatso (famous for his involvement in the film Leaving Fear Behind), and most recently Nyima Lhamo, niece of the late Tenzin Delek Rinpoche.
This is what we believe it is all about – working collaboratively and strategically at the UN for Tibet and making sure Tibetans are front and center of their own advocacy.
Concern about the situation in Tibet is on the rise at the UN, and as a coalition of Tibet groups we want to increase this in 2017, by supporting Nyima Lhamo to take her case further at the UN, and by strategically engaging various experts and diplomats in order to increase the pressure at the UN for other states to take combined action on China. Watch this space!
———————————–
It's a long list and I am proud of what we have achieved this year. It's worth remembering that we are just one staff member and a volunteer board, and yet we punch above our weight time and again for Tibet. We can do more, with the support of individuals around the world.
We want to be able to take our work to new heights in 2017. I ask that you consider joining us in these efforts by remembering TJC in your holiday giving so that we can continue our important work for Tibet in 2017.
You can donate securely by credit or debit card or PayPal from our website – http://www.tibetjustice.org/?page_id=100
Or you can send checks payable to: Tibet Justice Center, 440 Grand Avenue, Suite 425 Oakland, CA 94610 USA
Everything helps – however big or small – and it goes straight into working for human rights and self-determination for Tibet.
We will continue to work hard in 2017 towards these goals and, with your help, we'll get closer.

With my best regards,
Iona Liddell
Executive Director
 on behalf of the TJC board – Dennis, Nima, Fiona, Wangyal, Wangchuk, Rob and Eileen.